Executive Chef Chef Esteban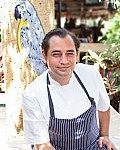 Executive Chef Esteban Arguedas, A Costa Rican native first became interested in cooking at the age of sixteen while attending high school and working in the kitchen of a high profile restaurant in Costa Rica. Two years later his family relocated to Miami and Esteban started to pursue his career in the Hospitality and Restaurant Industry. After moving up quickly because of his high passion for the art of cooking and natural talent of flair of presentation, he is now an experienced, forward thinking Executive Chef and Hospitality Professional. Esteban was recruited by Scott Khong, acclaimed Sushi Chef in Palm Beach FL, as he was hired to open the first venture for The Breakers Hotel outside of its property. ECHO restaurant was open in 2000 with outstanding success and continues to be one of the flagship restaurants for The Breakers and Palm Beach area. Esteban became the Garde-Manger Chef for Donald Trump's private club. There he was able to expand his culinary skills and knowledge of fine dining in a 5-star, and 5-diamond atmosphere. He experience expanded from restaurant service to catering for large events.
Esteban moved on to Executive Sous Sushi Chef for an new 460 seat Asian Fusion hotspot in downtown West Palm Beach's. His progressive approach to food allowed him to thrive in this position and he developed a fusion menu by combining traditional Japanese ingredients and techniques combining them with local ingredients. Esteban's skills at opening up a new concept restaurant and taste of the hospitality industry compelled him to move on large resort properties to farther develop his skills. He flourished at chef at PGA National Resort and Spa and moved on to Open Absinthe Restaurant at Marriott Boca Raton.
As Chef deCuisine at the Boca Raton Resort & Club, He led team through successful launch of The Palm Court, a Floribbean-Mediterranean concept, guided by consultant and celebrity Chef Annie Wayte. He also assisted Iron Chef Morimoto with the opening of his restaurant in Boca Raton When the life took him to move from Palm Beach to Orlando, he was sought after by Waldorf Astoria. He became an integral member of the team and brand and was asked to assist open the first Waldorf-Astoria property outside of NYC built from the ground up. Upon Esteban's return to South Florida, he was welecomed back to the Boca Raton, Marriott as Executive Chef. Over the past several years Esteban has also participated in various fund-raiser's including South Beach Food and Wine (2009-2012) Assisted Iron Chef Morimoto with his gala dinner in benefit of Haiti and other appearances.(2010) Host Chef, (2006 and 2007), March of Dimes Signature Chefs and Wine Extravaganza Taste of the Nation (2006 and 2007) and Boca Bacchanal (2006-2008)

General Manager Junji Hijikata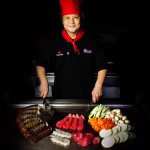 A Japanese native Junji first became interested in the restaurant business and the culinary field after he graduated from high school. Mrs. Nakato offered Junji to come to the USA as she noticed Junji's passion, thrive and determination for cooking, as he gratefully accepted her offer Junji embark on his culinary profession/adventure. Junji arrived in early 1980 in Atlanta Georgia, As Junji got accustomed to his new job duties and language he was able to rapidly exceed and was promoted to another location in South Carolina. Juinji had the opportunity to expand his experience as a hibachi and sushi chef under the guidance of Mrs. Nakato for several years. In 1987 Junji was contacted by the Larcomb Family to work as the Executive Hibachi Chef assists with the administration of their business at Fujiyama Restaurant In 1994 Junji ability to multi task lead the Family Larcomb to expand their business and open Club Sushi. Club Sushi under the guidance and direction of Junji and the Larcomb Family became till this day a milestone in the Naples community, Club Sushi and Fujiyama has received several awards of excellence.
Junji's dedication and effort rewarded him 2012 with the promotion of General Manager for Collier Food and Beverage, he is overseen three restaurant on property, continuing thriving for excellence. Jinji's vision of originality, freshness, is a sounded example in the restaurant industry. Junji's journey's continues as Club Sushi and Fujiyama are embarking in a more sustainable and healthier approach.

Chefs Jervi and Jonaton

Chef Joe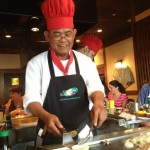 Chef Arnie